I am excited to share with you my own personal world of bliss. I have long desired to adhere to the late Joseph Campbell's advice to "follow your bliss." In doing so, I have followed my bliss into the worlds of color and beauty through art, speaking my truth through writing, personal growth and spiritual transformation, living in harmony with nature and the natural laws of creation which reflect the truth of who we are.
I have sat on this domain name for six years. Meanwhile, I have been off following my bliss building individual websites to reflect my passions. While recently contemplating ways in which to simplify my life, an epiphany arrived in which I saw the need to gather my scattered passions, and consolidate them into one whole expression. An immediate feeling and sigh of ahh (my name initials!) came over me…one website where all my passions could be shared. As I considered how I would make this happen, I realized that I had been limiting myself as a result of conditioned beliefs. I had read so many times of the necessity to present oneself on the web as an expert in one's field, and too many interests might surely diminish one's expert status in the eyes and minds of others. Embracing this perception had scattered my passionate interests into their own individual websites as though they were all separate and unrelated. But the truth, for me, is that they are all interconnected and together are the sum of my life's growth and experiences.
For art is about growth in everything we do and become. Many great artists have had other life passions which fueled their artistic creations. Monet was passionate about nature and gardening, and in surrounding himself with his blooming gardens, he created all the lovely floral subjects he so loved to paint. Many other well known artists were passionately outspoken about politics, justice, war, freedom and the state of the world. In essence, it is precisely an artist's passions about life which feed the creative fire for their artistic expressions. Art is life and life is art.
So, welcome to my new website where all of who I am, what I love to do and what I want to share can be found.
Here you will discover:
~ Beautiful paintings and giclee prints ~ Versatile hand-painted canvas rugs known as floorcloths ~ My published and soon to be published books ~ My passion for dragonflies as the metaphor for our personal and collective transformation ~  My passion for sustainable living ~ My passion for walking with the Earth whereby we may at last live in harmony with nature and one another ~ And my blog where I love to write ~
It is my sincere hope that your visit here will inspire you to follow the bliss road. Every single person on this planet has a gift to share. The more we share our gifts, the more awakened we will become to the creative source and force within us and all around us. The future of humanity is but a blank canvas waiting for our gifts of color to paint a new world; a blank page waiting for us to tell a new story.
 

Sign up for my newsletter in the footer below to stay up to date on everything bliss.
Studio Bliss Art offers over two hundred original paintings and numerous giclee print sizes for every painting. Take a blissful journey into color and beauty with which to adorn your soulful walls.
Studio Bliss Floorcloths presents over two hundred designs as well as custom made designs to suit your home decor. These versatile and durable canvas rugs are made to withstand muddy boots and paws for many years to come.
Here you can read about and order my published books while savoring a taste of new books coming soon. My writing passion holds the promise of more good reads on the way.
Living the permaculture way of life here on the farm by designing edible kitchen gardens and food forests. Permaculture is a system of design rooted in science and ethics that grants us more harmonious understanding about all living things, and the path we must take as stewards of our planet.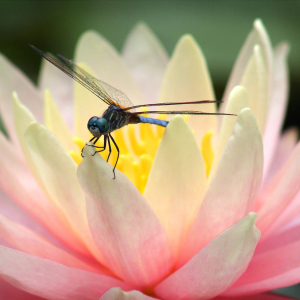 The dragonfly is the metaphor for humanity's metamorphosis into the beings we truly are. Like the nymph that spends much of its life in the murky waters, we are destined to leave our human emotional dramas behind, and fly into the higher dimensions and vibrations. Dragonfly Times shares dragonfly stories, gifts, great articles and readings to help you navigate these winds of change..
Despite all of mankind's achievements, humanity and our planet are suffering. The time has come to walk with the Earth in alignment with the natural laws of creation , and become the co-creators of a better, more beautiful world. We are the ones we have been waiting for; it is time for us to show up.
Quote For The Month
"There is only one of you in all time, this expression is unique. And if you block it, it will never exist through any other medium and it will be lost."
— Martha Graham