I recently encountered a young couple selling Florida native plants at the local farmer's market. I was not necessarily on a mission to buy any, but I came home with nine of them. I already had an Elderberry and a Milkweed, and since the price was right for many I had researched, I decided to complete my collection. Now I would have to get motivated to build a bed for my Florida native plants.
The great thing about plants and trees native to one's local area is that they grow effortlessly. They are already by nature acclimated to the local soil, temperature and weather; so not only does the soil need minimal amending, but also little fertilizer is required. The couple at the market were promoting native plants as a solution to all the fertilizer and chemicals being used on most garden landscaping, which end up in the Indian River lagoon. The result is a build up of algae that robs oxygen in the river, and eventually kills the fish and plant life. Besides the environmental benefits of going native, indigenous plants offer beauty and fragrance as well as medicinal attributes while providing insects, wildlife, birds and humans with edible food.
The spot for my native forest was already chosen and brewing under a layer of cattails pulled from the pond, and effectively killing the grass. I chopped the cattails into smaller pieces, added some bags of organic peat, compost and a bit of straw and then started planting my eleven native plants. The list is as follows: Garberia, Elderberry, Scorpion's Tail, Blue Porterweed, Firebush, Fiddlewood, Indigo bush, Florida Rosemary, Milkweed, Wild Lime and American Beautyberry. Wild lime and porterweed attract specific butterflies, Swallowtail and Buckeye, that are rarely seen anymore due to the decline in these plants. Elderberry and beautyberry produce beautiful flowers followed by edible berries for jams, wildlife and medicinal use. Fiddlewood and indigo bush produce fragrant flowers with the indigo flowers being edible, and the fiddlewood flowers being medicinal. Florida rosemary is an evergreen with tiny flowers resembling the culinary herb, but it is not edible. The brilliant flowers and the leaves of firebush and milkweed are both medicinal.
My one endangered native plant is Garberia that prefers more acidic soil, and produces delicate, tiny, orchid-like flowers. I hope I do not kill it. Scorpion's Tail was very wilted after planting, but has vigorously rebounded producing tiny, white flowers resembling crystals that cascade down the end of the scorpion tail shape.
I would have photos of all the native plants, but they are just getting going, and right at home in their native soil. I am excited to watch them grow, and to explore more native plants for use on the farm. It is a tough competition between the natives and the locals since there is a multitude of exquisite, tropical flowering plants and trees to choose from here in paradise. I am going to do my best to cultivate a mix, but predominantly give the natives the edge since their overall environmental, medicinal and wildlife benefits are superior.
Tropical flowers are not without their benefits, but they often require more work and attention. Their beauty and fragrance, however, are worth the effort. The lovely Frangipani, also known as Plumeria to some, abounds in many tropical locations. It is such an unusual tree, as you literally buy it looking like a fat stick that only requires sticking it into the sandy ground, waiting for its beauty and paradisiacal scent. It goes completely naked in the winter here, and rebounds into such full splendor come summer with every imaginable mix and shade of color. The leaves are prone to rust so a safe fungicide is often necessary.
Jasmine is undoubtedly one of my favorite tropical flowers. There are many varieties of jasmine that all share the same heavenly fragrance, though their flower structures are different. My night blooming jasmine is in full force now, sweetening the evening air with its luscious scent. I have a Belle of India jasmine that has a vining habit with a gorgeous star-shaped flower, from which the Pukaki fragrance is made. It is planted near the front door so I can get a whiff coming and going. I keep a Maid of Orleans jasmine in a pot from which I can pick the delicate flowers at will to make jasmine tea.
Recently, I bought two tree jasmines that produce huge clusters of fragrant blossoms, again and again, surrounded by lovely, expansive and cascading leaves.
A most unique plant I have is called Sacred Buddhist, a tree favored by the Thai people who plant it in front of their homes for its sweet scent, and the belief in the blessings this tree will bring. It is somewhat deciduous here in the cooler months, dropping most of its leaves, but always comes back bigger and stronger when the warmth returns.
I picked up a native flowering plant at our local Gardenfest this winter, called Tibouchina Lepidota. It drew me in as I was walking by, and everyone who sees it now in the garden is drawn to it…even most men. It is an ever-blooming native that gets covered in electric violet, big blossoms, with clustered leaves tinted with hints of orange. A rare beauty!
There are a few flowers I loved from my life in Virginia that I can grow here in the hot Florida sun: Agapanthus and Magnolia. I have three Southern Magnolia trees that are blooming non-stop right now, and I wish they would bloom all year. Magnolias are such majestic and regal trees with a strong structure and hardy, glossy leaves that can bear the force of hurricane winds.
My mother loved Agapanthus and always had a pot growing on her porch. I have planted a pot of her agapanthus, mixed with more local blue ones, in the front bed of my house. The tall, elegant structure and beautiful blooms of these blue flowers remind me of her.
I came across Crinum Lilies while visiting Lady Bird Johnson's botanical garden outside Austin a few summers ago. I planted three varieties along the wall by the waterfall, and one of them has finally bloomed. They say it is an indestructible flower, and that no matter what happens to it, it will always keep coming back. They love the water and will grow right on the edge of a pond where their feet stay wet.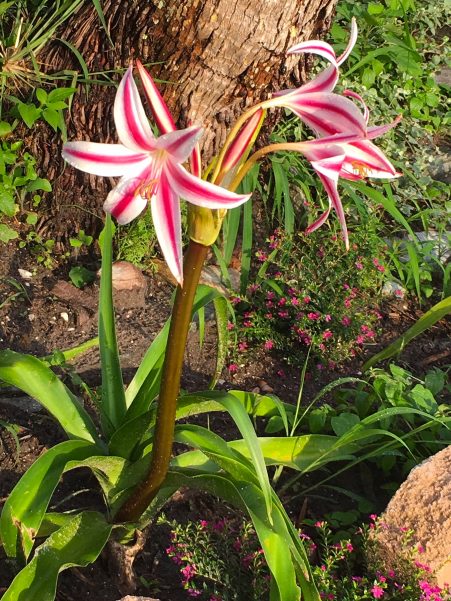 While most tropical flowers are just getting going here as summer approaches, most of my veggies are on their way out, with a few exceptions. It took months to grow my sweet potato slips last winter that are now in the ground and exploding.
My watermelon and Calabaza seeds were so slow to germinate, but now I will have to control the space they both need. Calabaza is about the only squash one can grow here during the hot summer, and I will be interested to see how it fares. I have never successfully grown watermelon, as the last time I tried, my dog kept picking them when they were ball size.
I welcome the ongoing abundance and beauty that is unfolding at Sweetgrass Farm. I also welcome the forthcoming break from the planting and growing season as it has been continuous hard work. I have one last bed to plant: a half-moon shaped bed by the pond that will be my first real food forest. The bed is brewing now and awaits several Moringa trees, avocado, fig, cinnamon, cacao, vanilla bean, coffee, tea and blackberries to start. In the fall I will add a variety of edibles to the understory.
Meanwhile, my turmeric and Thai ginger roots are sprouting, and getting ready to put on a beautiful summer show, along with my native plants and tropical flowers.
There is always something growing on here. Now I will ponder and plan the next phase of growth for this sweet farm, and come fall, be ready to build that vision.