Being a mom was my favorite job, so my 14 design collections would not be complete without my Just Kids Collection. When my boys were little, I painted big murals on their bedroom walls. One was an ocean scene full of sea life and the other was the rainforest full of jungle animals. Kids love color, nature and the animals so this collection brings these worlds alive for kids to enjoy.
I painted the original Animals On The Wind many years ago as a floorcloth for a friend's baby shower, and this design went on to be a favorite for kids. I have created new versions of the original courtesy of Photoshop so you have more colorful flying animals to suit your fancy.
Animals On The Wind T-shirt
I have fond memories of finding the occasional starfish on the beach when I was a girl, and I still get excited when one of these sea stars washes ashore. Did you know there are over 2000 species of starfish? Here is a fun and lively Dancing Starfish design your kids will love.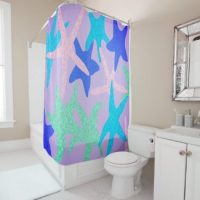 Dancing Starfish Shower Curtain
Mermaid folklore surrounds life by the sea. Both adults and kids alike delight in this imaginary woman with a fish tail who brings great mystery to the ocean world. My Mermaid design is simple with lots of mermaids swimming in the sea.
Mermaids Tripod Lamp
Kids love the night sky and the mystery of the stars and planets. The arrival of a comet is an amazing phenomenon as they streak across the indigo night with blazing tails. I just had to do a design to honor Comets.
Comets Throw Pillow
My love for both dragonflies and spirals resulted in this Dragonfly Dream design. The mystical dragonfly and the spiral symbol tell us that we are on an ever-changing and infinite mystery ride through life. Kids are like dragonflies, and can teach us how to embrace the wonders of the unknown and how to dream.
Dragonfly Dream Duvet Cover
One chilly fall night when I was in college, a gray kitten was scratching at the window outside. I brought her in, gave her a bowl of warm milk and that was that. She became the family cat for 15 years. One day my kids asked me if Lucy dreamed of chasing mice when she was napping, and that was how Cat Nap came into being.
Cat Nap Baby Blanket
Everyone loves dolphins, especially kids who easily relate to the wonderful happy spirits of these ocean creatures. They carry high vibrations of joy that magically seem to be imparted to us when we see them swimming and playing. Here is a Dolphin Magic design to celebrate the joy they bring us.
Dolphin Magic Night Light
Every summer mama sea turtles swim from the ocean to land on the beach where they will lay their eggs in the sand. Then in late fall to early winter, hundreds of tiny new sea turtles hatch and make their way to the sea. It is a sight to behold. I once swam with a big sea turtle, and call this design Sea Turtle Medicine because it was a healing experience.
Sea Turtle Medicine Throw Pillow
This Let It Reign design was created to honor and celebrate our amazing rainforests that are sadly disappearing at an alarming rate. Our rainforests are the most bio-diverse ecosystems on the planet, teeming with rare species of animals, insects, birds, flowers and plants. We need to protect these exotic forests for the future children to enjoy.
Let It Reign Tripod Lamp
I took the simple Banshee design and ignited it with lots of colors for kids. Color talks to us and stirs the imagination. Color and kids go together like water and life. Our kids help us create a beautiful, colorful world.
Kids Banshee Duvet Cover
You can view the entire Just Kids Collection by simply clicking on the image below. Enjoy!