The flower truly reveals its power when one of the greatest masters of art, Claude Monet, stated he may just owe his life as a painter to the flowers. Even those who do not consider themselves artists are often compelled to capture these beauties. No other motif in nature has inspired so many artists, poets and designers like the humble flower. Even the activists of the sixties movement chose flower power as their symbol for peace and love. Further, the essences of flowers are being widely used across the globe for spiritual, mental, physical and emotional healing.
It was a natural for me with my deep love for color to be drawn to painting flowers. Though I was inspired by a beautiful apricot colored wall, or an island home painted in turquoise with yellow shutters, none of man's colors could match nature's paintbrush. These were colors infused with the mystery and wonder of Creation itself. As an artist studying the glorious shades and textures of flowers, I often traversed those other worldly realms asking questions for which there were no answers. I could ask a fellow artist what colors they mixed to create an exceptional blue, but I could not ask nature how she created those delicate shades of violet or electric pinks. I was not just drawn to the colors found in nature, but to the mysterious artist who created them with no apparent paint nor brush.
Nature gifts us with so much beauty in her many splendid colors. This beauty is a powerful mirror to both inspire us, and remind us of who we truly are. Our own creations of beauty connect us to the source of all life. Whether we create a beautiful child, a beautiful song, a beautiful meal or a beautiful painting, beauty in all its manifestations elevates the soul with a desire to thrive. We cannot live without beauty.
It never occurred to me to paint flowers at night until one late spring evening, a friend brought me a pot of deep red tulips. I was so excited with the imminent return of spring that I had to paint them immediately. Though it was not my usual bright use of color, the painting somehow symbolized all the flowers still beneath the ground in the dark waiting to burst forth and bloom.
There was no shortage of flowers to paint come spring. I would eagerly await all the tulips I had planted in the fall to arrive. My house would soon be filled with vases of just cut tulips.
By summer, I would seek out the lovely, complementing colors of fuchsia and green found in pots of geraniums that graced front porches and poolsides.
Sometimes there were delightful surprises in the garden when a dormant perennial, that failed to show up last year, decided to return this summer with bountiful, white trumpet flowers.
By late July, the flower garden was a bold explosion with every array of color. Sometimes I would make notes of unique color combinations that flowed together in an exquisite dance, hoping that I might replicate that dance elsewhere in the garden.
One summer, a late August trip to Maine revealed the most amazing hot pink cosmos I had ever seen. Flowers that grow by the sea seem to be happier with more vibrant color.
By mid-September, my birthday bouquets were often filled with the best assortment of flowers the garden had to offer.
By October, I would be picking the last cosmos from my own garden for the final bouquet of this glorious season of flowers. I would have to wait all winter for another round of inspiration to create more flower paintings.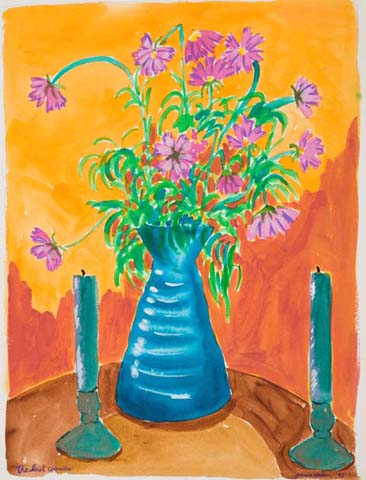 The Dreaming Power Of Our Planet
Walk With The Earth our return to living in harmony with natural...