I traveled a lot to tropical islands and the sea. I first visited Mexico and Bermuda in the 1980s, and returned to Hawaii for a third time in the 1990s. It was here by the ocean that I was drawn to a new light, that of island light. Island light was different than the pastoral light of the Virginia countryside. It seemed more intense, yet held such a softness. All the colors vibrated with a rare fluidity. I wanted to paint everything I saw.
I have always experienced time spent by the sea as very healing. From the moment my feet touch the salt water, I feel my whole being let go. I hear the water tell me I can rest now, and allow the ocean to carry my burdens.  My heart aligns with the rhythms of the waves, and I become one with that flow. I feel safe here. I can allow this healing water to carry my wounds away, and bury them in the watery depths…forever.
One of the deepest mysteries in this life is that the light can only be found in the darkness. I thought about all this beautiful island light I loved, how much lighter I felt while simultaneously scanning the surface of the sea beneath which a whole world of darkness lay. Beside the ocean's edge, I seemed more aware of this world of darkness within myself, in whom I sought my own light. What few gems of this light I had found here within were strengthened by the vibrancy of island light. I wanted to capture this light in my paintings. So I began a quest for the light. My journey would be a long one, and yes, I would have to journey into the darkness to find it. The gift would be my own inner light discoveries that would grant me new vision of the light all around me.
One late afternoon in Mexico, I was sitting in a sunlit courtyard with my sketch pad. I started to draw the scene before me of the afternoon shadows painting the courtyard walls in deeper hues. The cascading bougainvillea was on fire, and suddenly beneath it stood a sweet, little Mexican boy, his hand in his mouth staring at me. I quickly sketched him into the scene, and just as suddenly, he disappeared.
It was rare for me to include people in my paintings. I had done so with my boys on occasion, along with a few portraits. I once had a therapist who wanted to examine my painting portfolio. Her first observation of all my work was how few people I included in my paintings. She asked me why. I replied that I wanted my paintings to be pure and beautiful. I suppose she concluded from my answer that I didn't consider people pure and beautiful enough to be in my paintings. My paintings revealed a hidden, sensitive belief perhaps. But at this moment in Mexico, I found this dulce Mexican boy to be a most perfect addition to my painting.
I painted with a softer, delicate touch in my efforts to capture the light.
I wanted to be faithful to my simple, spontaneous style, yet I found myself being pulled into the most intricate details of what I saw. It seemed my paintings were becoming a disciplined exercise in seeing every little thing that was before me. My earlier spontaneous interpretations were giving way to a new depth of seeing that was now loyal to those visions. I could feel it was taking me somewhere, but I didn't know where. I surrendered and went with the flow.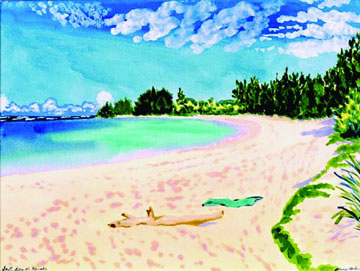 I would return from my seaside sojourns with new sketches, and dive into the sea of painting. I would keep the energy of island life alive for months as I painted blue rockers on the porch and island hammocks. I would immortalize my island experience in shades of blue and coral. The light was there somewhere in all those shades. I had to capture it fully.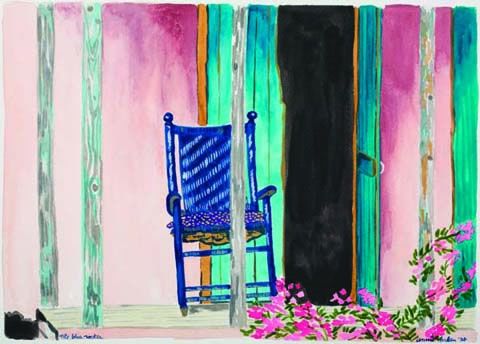 It would take another few years before my fascination with the light would begin to reveal itself in a new way. It happened after a man I had really loved broke my heart. The light found in the darkness once again.
Christmas of 1995 was tough. The man I loved was gone, I lost a good friend in a drowning accident just before Christmas at the same time my sons lost one of their best friends in a plane crash. Then my mother lost her husband, my step-father, the love of her life, on Christmas Eve. I scooped up my boys, and flew to the island of Tobago Christmas day leaving the holidays behind. I lost myself in colorful beach shacks and sun drenched bougainvillea. I gave my sorrows to the sea, and prayed for more light.
A few months later, I journeyed to Venezuela and the island of Margarita. I was a wind surfer, and Margarita Island was famous for its pale turquoise waters and steady winds. When I wasn't screaming across the surface of those luscious waters, I was soaking up the island, and more island light. The island was full of hidden beaches, brilliant colored villas and unusual, remote stores.
One of those remote stores was quite magical. It was part of a sacred site according to the owner, who filled it with ancient, artistic artifacts honoring the sacred. The walls and rooms overflowed with crosses, painted gourds, old vessels, old paintings, jeweled silver urns and more. He had the most amazing collection of urns I had ever seen. The sunlight dancing all over them in the late afternoon was magnificent.
I returned frequently to this sacred store with its sun drenched urns and pots to capture the sunlit shadows at different times of the day. Finally, I felt, I was learning to capture the mystery of island light.
The Dreaming Power Of Our Planet
Walk With The Earth our return to living in harmony with natural...